Paphiopedilum Lady Rothschild (Lady Isabel 'Jumbo Lady' x rothschildianum 'New Horizon' FCC/AOS)
15th July 2021
Paphiopedilum Harold Koopowitz (rothschildianum 'Bloomington'× malipoense 'Sam's Choice')
15th July 2021
Paphiopedilum Hsinying Anita (Lady Isabel 'Lady in Red' x adductum var anitum 'Ace' AM)
£84.25
Paphiopedilum Hsinying Anita (Lady Isabel 'Lady in Red' x adductum var anitum 'Ace' AM)
Remake of this highly wanted anitum hybrid! Using a very rich color Lady Isabel with a very dark awarded anitum. We have seem a few in bloom. They are awesome in color and form!
We hope for some awards from this remake!
PLEASE NOTE: Since this is a Seedling Population (not a Mericlone which produces exact duplicates), the picture is for illustration purposes only. No two plants will be the same from this cross, and they will flower in a range of possibilities coming from the two parents.
Description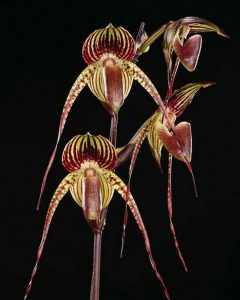 Additional information
| | |
| --- | --- |
| size | Seedling, Small, Near Flowering Size, Flowering Size, Large Multiple Growths |